You received your teeth whitening kit with LED light but out of the box, your light is not working. Hence you asked "Received The Teeth Whitening But My LED Light Does Not Work"
90% of the time people forget to remove the plastic safety tab under the batteries. You just open the battery door, remove the plastic pieces, and put back the batteries. Make sure batteries face-up, side with the letters-numbers faces upwards.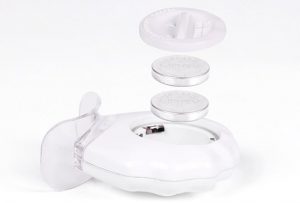 Mini LED Accelerator Light Problems
The mini LED light is an accelerator and it is used to speed up the whitening process. Your gel and trays will work fine with or without the light.  If your light is not working, flickering, or not staying on, here is what might have gone wrong:
a- The plastic insulator tab is still inside preventing batteries from touching. Please remove it by opening the battery door. The plastic piece is under the batteries.
b- The battery door is not locked. Please make sure the door is locked. When you lock the door, it will push the batteries in position.
c- The batteries do not touch the mini light terminals. Please follow these simple steps. You will see two metal ears touching the batteries. You can bend these metal ears very gently towards the batteries.  You can use a pencil or a nail. Just a minor push will do.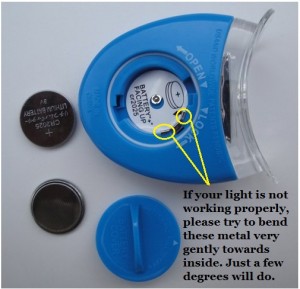 Obviously, this fix does not cover the type of light where you plug into your phones.
If your light still does not work, or if you have any other questions, please contact us. Please have your order number and purchase price available. If you want a replacement, we will need your address.
If you would like to buy our newest deluxe set, please see below: