COMPLETE AT HOME TEETH WHITENING KIT – Our kit includes everything you need for pearl white teeth and a bright smile. The enamel safe, professional strength premium teeth whitening gel will start making a difference in just minutes. You will be able to see impressive results with our 44% Carbamide Peroxide gel in only 15 minutes or less.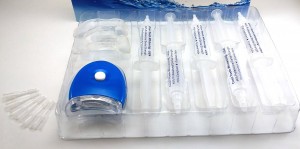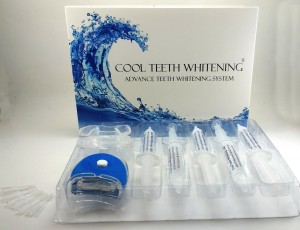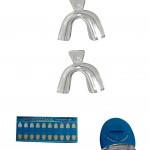 REMOVES COFFEE, WINE, AND TOBACCO STAINS – Get rid of those ugly stains for a younger and healthier smile. You will start noticing results immediately. Our 44% premium quality Carbamide Peroxide gel is the exact same enamel safe formula that your dentist sells for 10x cost. Our kit comes with the trays and instructions.
AFFORDABLE TEETH WHITENING – No more expensive teeth whitening sessions. Our kit comes with enough gel for 25 at home treatments. Saving you thousands of dollars. GREAT VALUE – Five (5) Large 5ml High Quality Gel Tubes (25 treatments) – Two (2) DIY Mouth Trays (1 Set) – – FREE LED accelerator light – Instructions Manual – Shade Guide (to keep track)
SIMPLE and CONVENIENT – Form the trays to fit your teeth in a few minutes and just add gel for a simple and convenient smile make over. You will start noticing results after the very first treatment.
100% SATISFACTION GUARANTEED OR YOUR MONEY BACK – Love our complete at home teeth whitening kit or return it for a FULL REFUND.
Great product. Easy to use.
This is a great product, it's very easy to use.
My teeth are white and bright now.
Great Value. Super Quick Results.
I did not want to spend 250 dollars at my dentist. I made an online search and found Cool Teeth Whitening. Couldn't be happier.
Great Value. Super Quick Results.

amazing product
This stuff is amazing! I've always had problems whitening my teeth. Strips don't really work for me and I have stains in between my front teeth from years of braces. The top picture is the original and the bottom picture is after 1.5 weeks whitening every other day for 30-40 minutes WITH the uv light on the whole time. The first time I used the kit I only did 5 minutes to make sure I didn't have gum sensitivity- I didn't. I haven't had any discomfort during the treatments. I highly recommend this!
Love this kit
Love this stuff! Noticeably whiter teeth and no sensitivity. I also want to add that I tend to ignore the directions and I leave this on overnight once every two weeks or so. As a suggestion, its easier to use a q-tip to apply to gel to your teeth and then put on the tray to avoid getting any on your gums (which burnnns).